Home security is becoming more and more important nowadays. It's not mainly due to the Covid-19 situation but also to the fact that I strongly believe that theft rates have gone up dramatically. Whether it's on the road, in the car or your home, the risk of getting robbed is always here, no matter how much precaution you take. And those who have suffered theft or break-ins know what it feels like. We also have to admit that robbers are smart!
What are traditional methods of home security?
Traditional methods have always been about cameras and alarm system. This is still a very good practice, some people go with both these methods and some use only cameras and alarms. Cameras provide a good protection level if you have someone monitoring them constantly. Like I said, thieves are smart, when they see cameras, they wear face masks to cover them and most of the time go un-punished. Alarms provide nice features with sensors and sound sirens to alert neighbours or the monitoring company. One downside I see here is that monthly payment you need to shell each month for the service that you might need once in a lifetime.
Don't get me wrong but traditional methods have proven to be effective and secure. However, lets face it – People are still buying analogue cameras and alarm systems which cannot cope with current threats or technology. Manufacturers / Resellers are selling and promoting these like crazy saying remote access or app view. Have you seen the quality of those! Even the app looks like some school project! Nevertheless, there are good ones out there with better features, research is a must to know what to get.
---
My take on securing your home
---
Go Smart, go fully digital
---
Decide what type of security you need, cameras, alarms, sensors, glass break, etc.
Do you need notifications? Yes, you need it but what type of notification?
What happens if I get robbed – what happens if they steal my video recorder?
Should I put all my eggs in the same basket (Use one provider)?
Let's try answering those!
For me, the smart choice would be to use something that I control and do not rely on any security firm to handle and service. You will be surprised how easy this is.
For example, I use the Amazon owned security firm – Ring for all my alarm needs. I started with the Ring 5 Piece Alarm Kit. This has everything I need, base station, keyboard, door and window sensor and motion detector. You can always add more sensors later. Ring has an awesome app, where you manage and configure everything and it is very easy to setup.
The base station is a white square box with a light that you secure to the wall or in a closet and have connections for power and a network cable. Everything else is configured from the app. The base station has battery power for 24 hours, if you have a power cut, you will still be protected for the next 24 hours. As a precaution, I have WiFi and LAN connected, if I loose LAN, WiFi takes over.
The keypad can be mounted anywhere you want or can float around, I like that idea and it has battery life for over 6 month, once depleted connect it to the USB cable and let it charge.
The sensors just need to be mounted to your doors and windows and paired in the app. And they are ready to go. The only thing I did not like are those strange looking batteries in them – CR123A nightmare to get but luckily Ring moved to AAA batteries in the new generation of sensors.
The App once launched is pretty neat, you are greeted with the dashboard and you can arm or disarm it right away.
The alarm modes are very nice, I can choose what devices to arm in home mode or away mode. I won't tell you what sensors I have in there but you get a good idea of what you can do.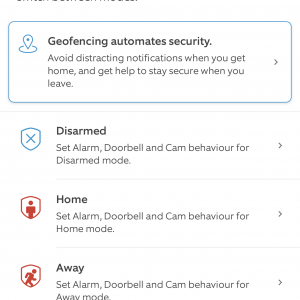 Notifications
Each time your alarm triggers, you get push notifications on your mobile, email alerts and of course the siren goes off – That thing is loud, you can pair it with the Ring Outdoor sensor and wake your whole neighborhood. Another neat feature Ring has is a panic button which you can add if needed which will trigger the alarm.
If there is a power cut, you will get a push notification to let you know that Ring is on battery power. Once an alarm is triggered, it cannot be muted or turned off, only the correct pin or app disarm will stop it.
Smart features
Enter Alexa! Ring works perfectly with Alexa
Alexa, set Ring to home mode or Alexa, Arm Ring (Ring is set to home mode)
Alexa, set Ring to away mode or Alexa, I am leaving (Ring arms in away mode)
Alexa, I am home or Alexa, disarm ring and you will be prompted to give a pin to disarm the system.
The nice thing here is that Alexa ask you to set a different pin that the one you use on your keyboard.
You can also share Ring access to other household members and set their own pin. You can also enable guess access.
Conclusion – Ring Smart Alarm
I chose to go with Ring mainly because I have total control over my security system and I can add sensors when and where I want. And I do not need to pay a monthly fee.
However, to complement my security system, I use a combination of other Ring and Reolink security products to secure my home such as Ring Video Doorbell, Ring Indoor Camera, Reolink 5MP Camera and NVR and Reolink E1 Pro Cameras to always notify me about what is happening. The Video doorbell will alert me if someone is in front of my house and will upload the footage to the cloud, motion is triggered instantly and I can watch and even talk to the person or make him run if required! It's fun to see how you can scare people peeping around with just your voice. Watch out for Part 2 where I discuss about this.